Vortilla is lucky to be able to work with some of the best people in many different industries.

In this feature, we shine a light on the brain behind most of our blog, paper and script content: Alicia Kacar of
Type A Copywriting.
---
What do you do at Type A Copywriting?
As a copywriter, my job is to move people – and products – through words. I work with small businesses and big brands, creating content that connects them with their ideal customers. I specialise in SEO copywriting, conversion copywriting and business storytelling, with strong a focus on digital content. Websites, sales pages and blog posts are my major offerings, but I also write email campaigns, newsletters, white papers and more. If it's got to do with words, I can help.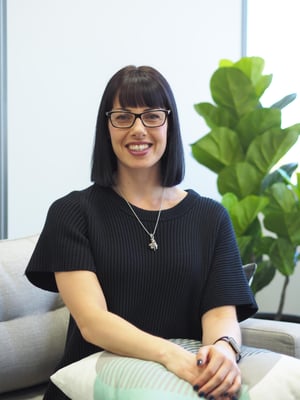 What was the inspiration behind starting Type A Copywriting?
Type A Copywriting was born to fill a gap in SME marketing services. Not every business can afford the luxury of a full-time copywriter. Many businesses offer great products and amazing service, but their content really lets them down. If you've ever cringed over a sales campaign or read a website that sounds like it's been written by a robot, you know what I mean. My vision for Type A Copywriting was to provide businesses with a professional, affordable copywriting service, without the commitment of an employee. I'm part of your team, but only when you need me.
How do you set yourself apart from the competition?
When you hire me, you get more than just a copywriter. You get the benefit of over 15 years' experience in marketing, PR and corporate comms – and the credentials to back it up. I hold a Bachelor's Degree in Media and Communication, I'm trained in SEO, and I have 5-star reviews from happy customers across Australia. Plus, I write every word of copy myself. I never outsource or subcontract. That's why I can promise top quality content, delivered on time, every time. I'm great at working with a limited brief and I'm not shy about bringing my ideas to the table.
What's been your favourite topic or piece of writing so far, and why?
I've been lucky to work with some incredible organisations, including Adelaide Thunderbirds, Australian Government and Melbourne Convention and Exhibition Centre. I love the variety of working for different brands, especially those who aren't afraid to have some fun with their copy.
I recently wrote a sales campaign called 'Get A Room' for one of Australia's leading home builders. The concept was based on a promotion which offered a free room – a bedroom, media room or alfresco – with every floor plan. 'Get a Room' was a cheeky campaign, which helped it stand out from the digital clutter. We knew the risqué concept wouldn't appeal to everyone, but it appealed perfectly to the target market of young homebuyers aged 25-35. It resulted in a 13% increase in sales over three months.
What are your thoughts on short contract service websites like Fiverr and Air Tasker? Do you think they will hurt or help your industry?
When it comes to content, there's no substitute for quality – and content mills can be hit and miss. Many clients come to me after a bad experience, when they've already wasted time and money on low-cost copy. If you've got the budget and you find a copywriter who 'gets' your business, you will see return on investment. A professional copywriter will become part of your team. They'll listen to your needs and take the time to learn your business inside and out. You rarely find that on Fiverr.
If you had to give one piece of advice to someone getting into the field, what would it be?
Create clear processes. My clients love working with me because they know exactly what to expect. My terms cover everything from the briefing procedure to timeframes, revisions, payments and inclusions. Clear processes keep everyone on the same page – and they give clients confidence.
Do you see any changing trends in what clients are asking for? What do you think will be 2018's 'big thing' in copy/content? Why?
User Experience (UX) and Information Architecture (IA). Now more than ever, digital content is about more than words. It's about how those words are presented. It's about creating catchy, bite-sized snippets of content and using intelligent design to guide users. There's also a fresh focus on micro copy. As markets become even more competitive, micro copy provides an opportunity to stand out. From a personalised 404 page to interesting alt tags, every single word counts.
If you're in need of a copy & content expert, get in touch with Alicia by emailing alicia@typeacopywriting.com.au, or visit her website at www.typeacopywriting.com.au .