While factors like location and concept contribute to overall success (no strategy can save a bad idea), there are a million things you can do to make your franchise business viable – and none of them involve rocket science.
Here's your next round of simple strategies for elevating your franchise above the rest.
Tip #5 – Nail your branding
Think of the most successful franchise businesses you know. Chances are you can recall something memorable about their brand, such as:
Logo
Colour palette
Typography
Tone of voice
Tagline
Mascot
Maybe you can picture the layout of their store, or imagine the staff uniform in your head. You might even remember a catchy phone number from their radio or TV ads. (13 11 66 for Pizza Hut, anyone?) This recognition is the mark of a solid brand, and it doesn't happen by accident. The best brands nail the brief by knowing and understanding their ideal customer – and you should too.
Think about your perfect customer. Are they male or female? How old are they? What are their interests? Do they have kids? Do they like dogs? Do they shop at or Chanel or Supre? What's their favourite colour? The more you know about your ideal customer, the easier it is to speak to them. And the better chance you have of building brand recognition.
Need a brand refresh? As Nike says, just do it. Rebranding is a big task (and, yes, an expensive one), but it's an investment worth making. Don't get stuck with a stale tagline or a sub-par logo, just because it's hard to change. If your brand doesn't appeal to your target audience, your dreams of running a successful franchise business will fade faster than your bottom line.
Tip #6 – Don't be invisible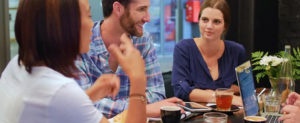 So, you've got a solid internal communications system? That's a brilliant foundation for day-to-day messaging, but it doesn't replace traditional comms. The most successful franchise businesses and big brands know that business leaders need to be seen, not just heard.
Look at Steve Jobs with Apple. Rather than being a mythical figure who was visible only behind a computer monitor, Steve Jobs was a presence within his organisation. He was visible. He was there.
Complement your internal comms, training and operational systems by putting yourself (and the leaders in your network) in front of your people as often as you can. Host in-person meetings, deliver workshops, attend social events. While email might be the most convenient way to communicate, nothing beats a face-to-face when you want to build rapport.

Bookmark our blog page today and come back next week for tips 7 & 8!
Vortilla offers smart, simple solutions to complex business problems.
Get in touch to find out how our online platforms can help you streamline, strengthen and scale your franchise business.